I was bored again, so I scanned some butterflies from papers I found in my desk and then played a bit in Photoshop. Here are 12 beautiful textures that I named "Secret Garden" because those butterflies are so cute (and even too cute to call those textures different). I hope you like them. I'm also working on making brushes from this and that previous set and I think they'll soon appear here. Enjoy!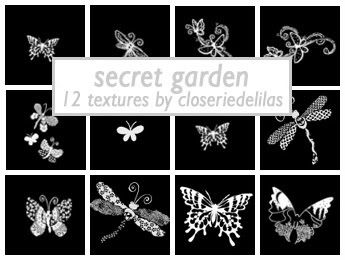 Download HERE

♥ Please credit.
♥ Please leave a comment when you take it.
♥ Feel free to JOIN ME or FRIEND ME if you like my work.
♥ Enjoy!